FUNERAL FLOWERS
While flowers can be used for many different occasions we find that they are mostly used for special and solemn occasions. One of the many uses that you can see flowers being used for is that of funeral flowers. With the various different cultural aspects that are present these funeral flowers will be created for those aspects.
The best way to select funeral flowers is to see what is in stock at your local florists. The staff at these shops will be able to supply you with a selection of tasteful flowers that you can send. When you are sending funeral flowers you should select floral arrangements that impart a message of sorrow and sympathy.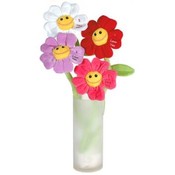 For this reason you should select the funeral flowers for the aspect that you want to display it as. Gladioli's, Snap Dragon's, Lilies and even roses can be used to create a wreath that can be placed on the side of the funeral casket. There are various floral sprays that show the senders condolences to the family of the deceased.
These sprays can include large dramatic flowers like Snap Dragon's, Delphiniums, Stocks, Alstroemeria, Chrysanthemums and many others. There are funeral pieces that can be placed on the inside of the casket. These are small sized florals that can be shaped like hearts, nosegays and even small flower sprays.
These small sized flower designs are usually comprised of white roses, pale pink carnations, daises and other small flowers. In some cultures purple and golden lilies are used as funeral flowers. This is due to the fact that some lilies are regarded as being symbolic of life and death.
The golden color in these lilies is seen as the resurrection of life and the purple color of this flower is regarded as death and even mourning. For this reason a funeral flower arrangement that has purple and gold lilies will show the symbolic connection between life and death.
When you are choosing other types of funeral flowers you can ask your florist about the various meanings that are present in the colors of the flowers. By seeing to this little known fact you can be sure that you sending funeral flowers that are appropriate to the funeral.
While flowers are filled with life they are also seen as having a close connection to death. This is probably because the many flowers have a short life span but while they are in bloom they are vibrant and full of life.
[SOCIALNETWORKLINK0000000058]